A single hard-boiled egg packs six grams of protein and five grams of fat. In Haiti, those nutrients represent opportunity.
For children, an egg is the chance to grow healthy and strong, to concentrate in school.
For family farmers, eggs offer the opportunity to increase their incomes, diversify their crops as a hedge against unpredictable weather, and contribute to local food production and strengthen local economies.
But most eggs are not harvested in Haiti, which only produces enough food for less than half of its population. Instead, they are imported, part of more than $700 million spent annually by the small island nation on food imports.
Redirecting some of those millions to local farmers could be a game changer for the communities of rural Haiti, where two-thirds of children are malnourished and most families live in chronic poverty. Facilitating these important community connections can increase the income of local farmers and improve children's health and education, and is exactly what the W.K. Kellogg Foundation has partnered with the KORE Foundation to do.
In 2017, the organization piloted a small project to train and equip farmers in Haiti's Central region to produce eggs for local school children. The four participating farmers collectively provide one egg a day to more than 800 students, and are projected to earn at least $1,200 annually through the sale of eggs and poultry meat — an enormous amount of money in a country where 70 percent of rural households live on less than $2 a day.
With that money comes greater economic stability, food security and independence for the farmers, their families and their communities.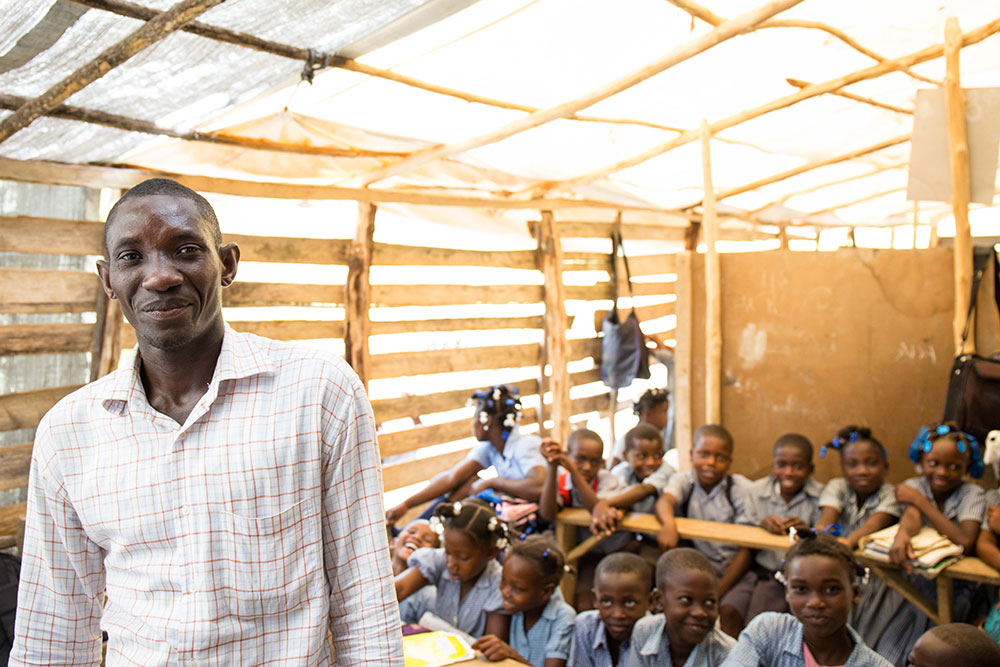 "I have big dreams for my daughter," says Solange Taillefer, a participating farmer and mother who received only five years of formal education and is using the extra income to pay school fees for her daughter and grandchild. "I send her to school and her child too. I wish for her to learn something and make a living for herself to be able to provide for her family."

"I send my daughter to school and her child too. I wish for her to learn something and make a living for herself to be able to provide for her family."
— SOLANGE TAILLEFER, FARMER AND MOTHER
Connecting Successful Models
In 2018 the KORE Foundation expanded the project to include an additional 48 farmers, with the goal of providing one egg per day during the school year, and three eggs per week during the summer, to more than 8,000 area school children. In most cases, this will be the only protein and fat that the students receive each day.
The program targets school children because research shows that access to healthy food makes it easier for children to attend school and to learn. Participating schools are members of the Model School Network Initiative (MSN), a coalition of three school networks that are working together to increase the quality of education in Central Haiti with support from the Kellogg Foundation and other institutions.
The MSN operates more than 200 primary schools, serving more than 55,000 students and 2,000 teachers, trainers and administrators who benefit from curriculum development, infrastructure support, sanitation programs, materials, supplies and most importantly, teacher training.
By helping children succeed in school, these partners are helping children succeed in life.